These applications mainly target the field of travel-related conversations in airports, hotels, shops, and restaurants.
These applications can be free downloaded.
Other Applications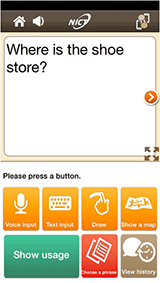 KoeTra supports smooth communication between the hearing-impaired and people with normal hearing using text and speech. "KoeTra" utilizes both high-speed and accurate automatic speech recognition, as well as high-quality speech synthesis technology of NICT. The application is provided by FEAT Limited.