TOKYO—Nomura Holdings, Inc. (President and Group CEO, Kentaro Okuda, hereinafter Nomura HD), Nomura Securities Co., Ltd. (Representative Director and President, Kentaro Okuda, hereinafter Nomura Securities), National Institute of Information and Communications Technology (President, Hideyuki Tokuda, Ph.D., hereinafter NICT), Toshiba Corporation (Representative Executive Officer and President and Chief Executive Officer, Satoshi Tsunakawa, hereinafter Toshiba), and NEC Corporation (President and CEO, Takayuki Morita, hereinafter NEC) have jointly verified the effectiveness and practicality of quantum cryptography for future social implementation using stock trading operations as a use case, where high-speed, large-volume, low-latency data transmission is strictly required. The test which started in December 2020 is the first in Japan to verify the low-latency and large-volume transmission tolerance of highly secure data transmission conforming to the message transmission format (
FIX
format), which is a standard format used in actual stock trading operations. As a result, in our assumed use case, we were able to confirm the following two points: (i) the throughput is maintained at a level of a conventional system, even if quantum cryptography is applied, and (ii) even if a large number of stock orders are placed, highly secure and high-speed quantum cryptographic communication can be realized without depleting cryptographic keys. The success of this test is expected to accelerate the social implementation of quantum cryptography, including a broad range of sectors other than finance.
The threat of cyber-attacks on financial institutions is increasing, and the potential impact on the financial system has become a serious concern. In particular, in the financial sector, the circumstances surrounding systems have changed significantly due to the accelerated development of digitalization, and further strengthening of security measures is required.
On the other hand, in stock trading, "algorithmic trading," in which a computer system automatically determines the timing and quantity of stock trading orders and repeats them according to stock prices, quotation information, volume of trading, and other factors, is widely used. A large number of transactions are conducted every day. In Japan, the daily trading volume of stocks and other securities on stock exchanges is more than 3 trillion yen, and a communication system that can handle a large amount of transaction data is required for the processing of such stock trading. In addition, in stock trading, delays in transaction processing can lead to opportunity losses. Therefore, stock exchanges provide a communication network infrastructure that can process orders with a response time of less than milliseconds.
As can be seen in 5G and Beyond 5G, it is vital that network infrastructures are able to support high-speed, large volume, and low-latency needs. Particularly in stock trading systems, exceptionally large-volume data transmission and low-latency communications are essential.
Outline of the joint verification test
Based on the keys exchanged by the high-speed QKD equipment developed by Toshiba and the QKD equipment developed by NEC, we tested cases in line with actual stock trading operations and measured the response times of several different data encryption methods during large-volume data transmission. In this way, we verified the practicality of QKD systems and each encryption method. Specifically, we examined the effects of the three types of encryption methods, high-speed OTP, SW-AES, and COMCIPHER-Q, on the total data capacity of the FIX messages transmitted in the stock trading operations of securities companies per day and the response times measured assuming a data transmission volume several tens of times larger than the total data capacity. By comparing and verifying the practicality of QKD systems and data encryption methods during large-volume data transmission in line with these specific test cases for stock trading, we have obtained important suggestions for the future social implementation of quantum cryptography in various fields, including non-financial fields.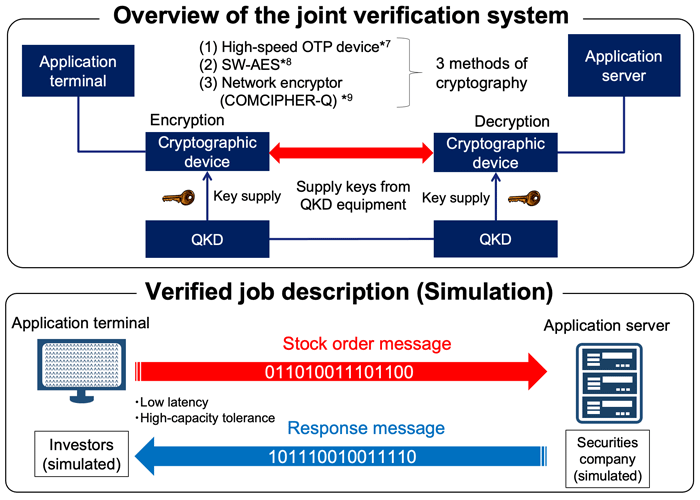 This time, we have successfully verified (i) low-latency communications and (ii) high-volume data communications. At the same time, we will also verify (iii) continuous operation of the quantum cryptography system for a long period of time (about one week) to prevent system failure (long-run test) and that whether system switching occurs without delay in the event of system failure (stress test). We plan to verify this by the end of March 2022.
Based on the results of the test, we will work on measures for the utilization of quantum cryptography and quantum secure cloud systems, as well as the formulation of appropriate implementation plans, in order to steadily implement quantum cryptography in society in the future.
If we can prove the practicality of quantum cryptography in the financial sector, which requires particularly strict standards in terms of large data capacity, low communication delay, and continuous system operation, it is likely that quantum cryptography can be applied to other industries as well. Based on this verification, we will work to open up further prospects for the social implementation of quantum cryptography.