Home > Events & Topics > NICT has been the first to receive the Nature Photonics Best Postdeadline Paper Award at ECOC 2015
National Institute of Information and Communications Technology
At the 41st European Conference on Optical Communications (ECOC 2015, September 27 to October 1), one of the biggest international conferences related to optical fiber technology, the results of a 2.15 Petabit/s transmission experiment over 31 km of multicore fiber carried out by Ben Puttnam and members of the Photonic Network System Laboratory at NICT received a high evaluation and, as previously announced, their paper was selected to be presented at the conference's postdeadline session. The postdeadline session is the highest profile conference session comprised of papers submitted only a few weeks before the conference to give researchers an opportunity to present some of the latest and hottest research topics in a highly competitive way.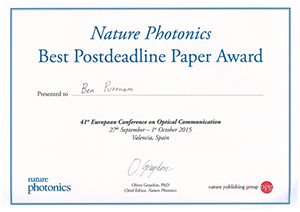 Furthermore, for the first time at this year's ECOC conference, Nature Photonics presented an award to the highest scoring postdeadline paper of all categories, and NICT was selected to be the first to receive this prestigious award.
The award recognized the achievement of transmitting 2.15 Petabit/s over a single fiber which represents a two-fold increase in transmission capacity compared to the previous record. Development on new optical fibers and leading-edge research on next-generation transmission systems in collaboration with the industry lead to the success of this new world record. At NICT, we are constantly striving to lead the field of optical fiber transmission technology while competing with top research centers around the world.
Press Release
October 13, 2015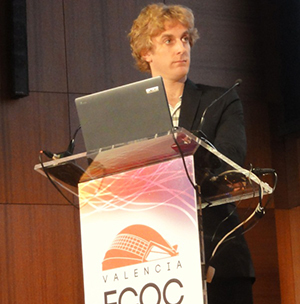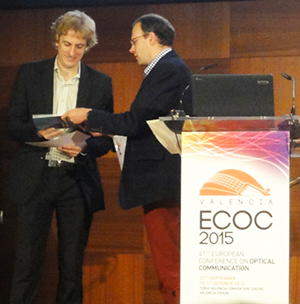 Dr. Puttnam presenting the paper (left), and receiving the award (right)